Would you be interested in joining as a volunteer helper, lunch team leader or Trustee? We are a small, friendly team, enthusiastic about helping stroke survivors and their carers.
Lunch Helper – you would welcome members as they arrive, chat and get to know them as you hand round tea, coffee and sandwiches
We welcome new volunteer lunch helpers. At our lunch sessions you would help to welcome our members as they arrive from 11.45 onwards. You would set the table, hand round tea and coffee, sandwiches, fruit and cakes, chat with members and afterwards help to clear up after lunch. From 1pm you would help members to participate in the session's planned activities. We have a rota of lunch helpers, two helpers per session, arriving at 11.30 and leaving at 2pm.
Lunch Team Leader – you would buy the ingredients, prepare the sandwich lunch and oversee other helpers in the kitchen
We are seeking new Lunch Team Leaders. As a volunteer Lunch Team Leader you would buy the food, bringing it from the nearby supermarket to the kitchen at Mary's Community Centre to prepare our sandwich lunch, with teas and coffees, and a birthday cake when appropriate. Costs of the food are reimbursed. We have a rota of Team Leaders, ideally volunteering one Thursday lunch session per month, arriving at 11.30 and leaving by 2pm after the kitchen is tidied up.
Trustees – we are seeking new Trustees interested in supporting stroke survivors and their carers
Our Trustees are the Chair, Treasurer, Secretary, and four Elected Members. As a Trustee you would need to understand the duties and responsibilities of a charity trustee and would be encouraged to part of our friendly team, participating as a volunteer Lunch Helper or Team Leader if possible. All Trustees stand down at the AGM each year and may be nominated for re-election; a ballot may be held. Trustees are automatically members of the executive committee which meets about 5 times a year, normally at 2pm after the lunch session. Following the AGM on 23 April, there are vacancies for the positions of Chair and Elected Member.
DBS checks will be required for all Trustees and Lunch Team Leaders and Helpers
The Stroke Association arranges DBS checks for our new volunteers.
We enjoyed a festive meal at Mary's Community Centre. And Chris from InterAct Stroke Support led a session of jokes, stories and conversation.
On Thursday we enjoyed the return of Healthy Generations – leading our session of singing and dancing.
We enjoyed our September session of Storytelling with Chris. Look out for our next Storytelling session on October 14th. If you would like to join our lunch sessions contact the Club Secretary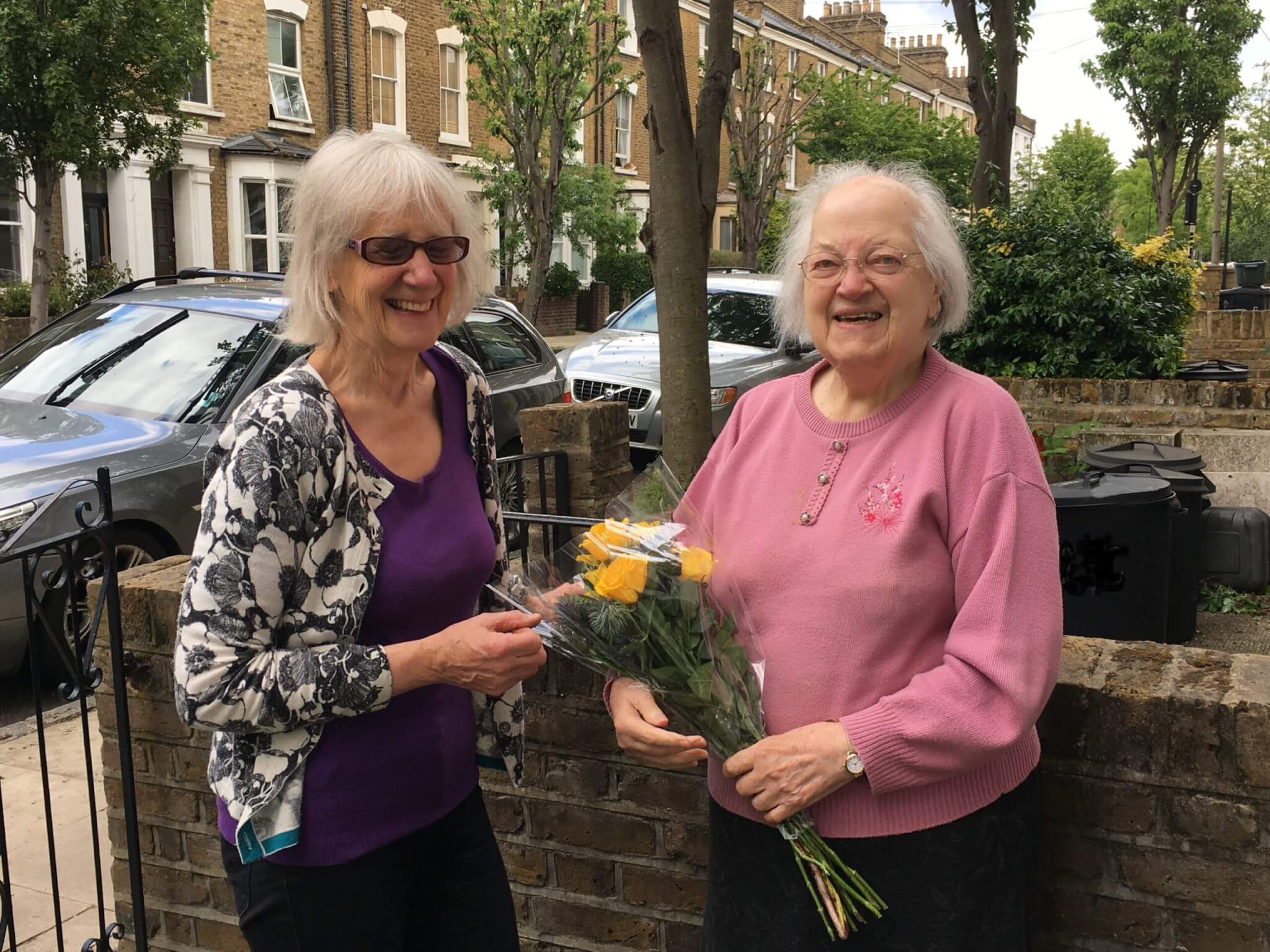 Jane, Club Secretary, presenting Kathleen with flowers. Kathleen became a committee member, then Stroke Club Treasurer in 1998, after a fellow member of St Mary's Church in Islington heard she had retired, having worked as an accountant. For over 20 years Kathleen helped provide our weekly lunches in Mary's Community Centre. Kathleen remembers the Club marking the Millennium in 2000, when the award of a grant enabled the hire of coaches with wheelchair facilities for awaydays in Clacton and Eastbourne.
Come along to our friendly lunch sessions – every Thursday 12noon to 2pm – for a sandwich lunch and conversation in our spacious and well-ventilated meeting room. If you would like to visit for the first time please contact our Club Secretary to book your place or to enquire on behalf of a friend or relative.
Nine members enjoyed a successful Covid-safe lunch at Mary's Community Centre last week. Places for our weekly Thursday lunch meetings must be booked – existing members only – contact the Stroke Club